Where:
Located in adjacent McMillan Library parking lot
This is an outdoor, socially distanced event with groups of chairs placed six feet apart from others. Please stay six feet apart from those not in your household.
The building will be open for restroom use. Masks are required to enter the building.
In the event of rain, this event will be switched to a virtual Zoom event with no audience.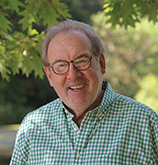 Midwest Book Award winner, Dairylandia, recounts Steve Hannah's burgeoning love for his adopted state through the writings of his long-lived column, "State of Mind." He profiles the lives of the seemingly ordinary, yet quite (and quietly) extraordinary folks he met and befriended on his travels.
Steve Hannah is a former managing editor of the Milwaukee Journal and was a longtime CEO of The Onion.