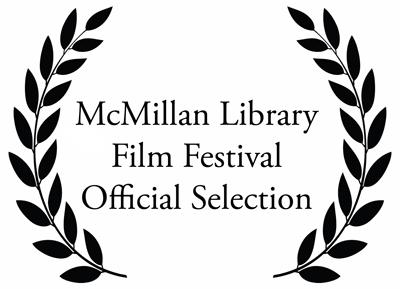 McMillan has brought a different kind of film festival to Wisconsin Rapids. Like most film festivals, we are showing a selection of limited release, foreign, documentary and regional films. Unlike other festivals, the films are shown throughout the year. When possible, we bring in those involved in the making of the films, in support of the Digital Media Studio.
In most cases, the films will be shown as part of our regular Monday Movies, though films may be part of wider events, such as ARTiGras. As always, admittance is free and there are no tickets. If you like this series, we recommend our National Theatre Live presentations.
Submissions: We accept submissions of regional films or films that address local issues. We value to opportunity to engage with the creators as part of our committment to fostering local makers.
Events in the McMillan Memorial Library Film Festival:
2020 Series
Presented as part of ARTiGras 2020
March 5, 2020 - Western Stars. "Western Stars" is a cinematic film version of Bruce Springsteen's latest globally successful album of the same name.
March 9, 2020 - Capernaum. Winner of the Grand Jury Prize at the Cannes Film Festival, Nadine Labaki's CAPERNAUM ("Chaos") tells the story of Zain (Zain al Rafeea), a Lebanese boy who sues his parents for the "crime" of giving him life.
March 9, 2020 - Pain & Glory (Dolor y Gloria). Pain and Glory tells of a series of re-encounters experienced by Salvador Mallo, a film director in his physical decline. Antonio Banderas, Penelope Cruz, Director Pedro Almodovar. 
February 2, 2020 - Blinded by the Light. 1987. When music fanatic Javed discovers the illustrious back catalogue of The Boss his world is turned upside down; already a creative soul his passion for music and writing is set alight by the songs of the working-class poet, whose lyrics feel all too familiar to the aspirational teenager. Yearning to escape his rundown hometown and the rules of his traditional Pakistani household, Javed finds himself caught in between two worlds and must discover if he too is Born to Run. This limited release feature did not play locally.
January 20,2020 - Maiden. Maiden is the story of how Tracy Edwards, a 24-year-old cook in charter boats, became the skipper of the first ever all-female crew to enter the Whitbread Round the World in 1989.  Although blessed with tremendous self-belief Tracy was also beset by crippling doubts and was only able to make it through with the support of her remarkable crew. With their help she went on to shock the sport world and prove that women are very much the equal of men.
2019 Series
December 9 - The Public. In "The Public" an unusually bitter Arctic blast has made its way to downtown Cincinnati and the front doors of the public library where the action of the film takes place. At odds with library officials over how to handle the extreme weather event, some homeless patrons turn the building into a shelter for the night by staging an "Occupy" sit in. What begins as an act of civil disobedience becomes a stand-off with police and a rush-to-judgment media constantly speculating about what's really happening. This David versus Goliath story tackles some of our nation's most challenging issues, homelessness and mental illness and sets the drama inside one of the last bastions of democracy-in-action: your public library.
November 11 - Wisconsin Vietnam War Stories. Telling emotional stories that haven't been heard before, Wisconsin Vietnam War veterans recount their experiences in a three episode television documentary. The evening showing is followed by a panel of local Vietnam veterans. Presented to enhance the exhibit Wisconsin Remembers: A Face for Every Name. 
October 21 - The Mustang. Roman (Matthias Schoenaerts), a convict in a rural Nevada prison who struggles to escape his violent past, is required to participate in an "outdoor maintenance" program as part of his state-mandated social rehabilitation. Spotted by a no-nonsense veteran trainer (Bruce Dern) and helped by an outgoing fellow inmate and trick rider (Jason Mitchell), Roman is accepted into the selective wild horse training section of the program, where he finds his own humanity in gentling an especially unbreakable mustang.
September 16 - On the Basis of Sex. The film tells an inspiring and spirited true story that follows young lawyer Ruth Bader Ginsburg as she teams with her husband Marty to bring a groundbreaking case before the U.S. Court of Appeals and overturn a century of gender discrimination. With Felecity Jones and Armie Hammer. This film did not play locally. 
August 26 - At Eternity's Gate. Julian Schnabel's At Eternity's Gate is a journey inside the world and mind of a person who, despite skepticism, ridicule and illness, created some of the world's most beloved and stunning works of art. With Oscar Nominee Willem Dafoe. It's a beautiful visual and spiritual journey through the glorious highs and devastating lows of a brilliant artist who was ahead of his time.
July 15 - Apollo 11. Apollo 11 is a cinematic space event film fifty years in the making. Featuring never-before-seen large-format film footage of one of humanity's greatest accomplishments.
June 10 - The Favourite. Olivia Coleman won as Oscar as Queen Anne, with Rachel Weisz and Emma Stone as her favourites. This film did not play locally.
May 20 - Love, Gilda. LOVE, GILDA opens a unique window into the honest and whimsical world of beloved performer Gilda Radner, whose greatest role was sharing her story. Working with the Radner estate, D'Apolito unearthed a collection of diaries and personal audio and videotapes documenting her childhood, her comedy career, her relationships and ultimately, her struggles with cancer. These never-before-seen-or-heard footage and journal entries form the narrative spine of the documentary, allowing Gilda to tell her own story - through laughter and sometimes tears.
April 29 - Chasing Coral. Coral reefs are the nursery for all life in the oceans, a remarkable ecosystem that sustains us. Yet with carbon emissions warming the seas, a phenomenon called "coral bleaching"-a sign of mass coral death-has been accelerating around the world, and the public has no idea of the scale or implication of the catastrophe silently raging underwater. With its breathtaking photography, nail-biting suspense, and startling emotion, Chasing Coral is a dramatic revelation that won't have audiences sitting idle for long. A dazzling Netflix original shown with their permission. 
March 18, 2019 ARTiGras Movie Day
The Red Turtle. 1:30 pm. Through the story of a man shipwrecked on a tropical island inhabited by turtles, crabs and birds, The Red Turtle recounts the milestones in the life of a human being. The Red Turtle adds to Studio Ghibli's estimable legacy with a beautifully animated effort whose deceptively simple story boasts narrative layers as richly absorbing as its lovely visuals. Oscar nominee for animation.
Ho-Chunk History with Andy Thundercloud.  3:30 pm. By the banks of the Lemonweir River in what for ages had been Ho-Chunk territory, Andy Thundercloud shares the oral tradition of his people. Thundercloud tells of a traveling people who migrated across the land to become many different tribes, of the importance of maintaining the traditional language, and of the wonderful way of life he has known. This 30 minute Wisconsin Public Television special is presented as part of ARTiGras 2019. Mr. Thundercloud will be on hand to discuss the film after the showing. 
In Darkness. 7:00 pm. From acclaimed director Agnieszka Holland, In Darkness is based on a true story. Leopold Socha, a sewer worker and petty thief in Lvov, a Nazi occupied city in Poland, one day encounters a group of Jews trying to escape the liquidation of the ghetto. He hides them for money in the labyrinth of the town's sewers beneath the bustling activity of the city above. The film is also an extraordinary story of survival as these men, women and children all try to outwit certain death during 14 months of ever increasing and intense danger. In Polish, Yiddish and German. Oscar nominee for Best Foreign Film.
March 15, 2019 - Julius Caesar. Recorded before a live audience at The Bridge Theatre, London. Ben Whishaw (The Danish Girl, Skyfall, Hamlet) and Michelle Fairley (Game of Thrones) play Brutus and Cassius, David Calder (The Lost City of Z) plays Caesar and David Morrissey (The Walking Dead) is Mark Antony. 
February 18, 2019  - Pope Francis - A Man of His Word.   Wim Wenders' new documentary, "Pope Francis - A Man of His Word," is intended to be a personal journey with Pope Francis, rather than a biographical documentary about him. The pope's ideas and his message are central to this documentary, which sets out to present his work of reform and his answers to today's global questions. 
January 21 - Puzzle. The closely observed portrait of Agnes, who has reached her early 40s without ever venturing far from home or family. Stepping out of her domestic bubble to pursue her new hobby, Agnes meets Robert, a wealthy, reclusive inventor who immediately recognizes her talent and recruits her as his partner for an upcoming world jigsaw tournament. 
2018 Series
December 10 - Beast. A psychological thriller about a repressed young woman and her outlaw lover, set on an island beset by a serial killer. A limited release chiller.
October 22 - The Curious Incident of the Dog in the Night-Time.  The five time Tony winning play as recorded before a live audience. Part of our National Theatre Live series.
October 15 - Won't you be my neighbor? An exceptional documentary about Mr. Rogers.
September 19 - Heroin(e). The Oscar nominated short about a West Virginia city's response to the opioid crisis will be shown along with a program on the Wood County Adult Drug Treatment Court. Meal and free childcare provided.
September 17 - The Rider. After suffering a near fatal head injury, a young cowboy undertakes a search for new identity and what it means to be a man in the heartland of America. Multiple award winner (Cannes, Spirit Award).
August 20 - Film Stars Don't Die in Liverpool. Annette Benning stars as Gloria Grahame in limited release film. Based on Peter Turner's memoir, the film follows the playful but passionate relationship between Turner (Bell) and the eccentric Academy Award (R)-winning actress Gloria Grahame (Bening) in 1978 Liverpool. What starts as a vibrant affair between a legendary femme fatale and her young lover quickly grows into a deeper relationship, with Turner being the person Gloria turns to for comfort. Their passion and lust for life is tested to the limits by events beyond their control.
July 16 - Phantom Thread. This Oscar nominee was not shown locally.
May 21 - Land of mine. Oscar nominee for Best Foreign Language Film. 
April 23 - Green Fire: Aldo Leopold And A Land Ethic For Our Time. The first full-length documentary film ever made about legendary environmentalist Aldo Leopold, Green Fire highlights Leopold's extraordinary career, tracing how he shaped and influenced the modern environmental movement. Leopold remains relevant today, inspiring projects all over the country that connect people and land.
March 12 - ARTiGras Special.
Toni Erdmann @ 1:30 pm The award-winning German language film about a father trying to reconnect with his daughter. One of the film's producers will Skype in after the film to discuss the movie.
The White Helmets @ 6:00 pm. This award-winning Netflix doumentary covers the teams that rescue people in bombed buildings in Syria.
Our Little Sister (Umimachi Diary) @ 7:00 pm. Three sisters Sachi, Yoshino and Chika live together in a large house in the city of Kamakura. When their father absent from the family home for the last 15 years dies, they travel to the countryside for his funeral and meet their shy teenage half-sister. Bonding quickly with the orphaned Suzu, they invite her to live with them. Suzu eagerly agrees, and a new life of joyful discovery begins for the four siblings. Japanese with English subtitles.
February 12 - Everybody Loves Somebody. On the surface, the young and beautiful Clara Barron (Karla Souza) seems to have everything- a great job as an OB-GYN; a great house in LA; and a big fun-loving Mexican family. But, the one thing Clara doesn't have figured out is her love life. In an adventure full of laughter, she learns that sometimes it takes the whole crazy family to help you find crazy love." In Spanish and English.
January 8 - Victoria & Abdul. The extraordinary true story of an unexpected friendship in the later years of Queen Victoria's (Academy Award winner Judi Dench) remarkable rule. When Abdul Karim (Ali Fazal), a young clerk, travels from India to participate in the Queen's Golden Jubilee, he is surprised to find favor with the Queen herself. As the Queen questions the constrictions of her long-held position, the two forge an unlikely and devoted alliance with a loyalty to one another that her household and inner circle all attempt to destroy. As the friendship deepens, the Queen begins to see a changing world through new eyes and joyfully reclaims her humanity.
2017 Series
December 18 - Step. STEP documents the senior year of a girls' high-school step dance team against the background of inner-city Baltimore. As each one tries to become the first in their families to attend college, the girls strive to make their dancing a success against the backdrop of social unrest in the troubled city.
November 13 - Maudie. MAUDIE, based on a true story, is an unlikely romance in which the reclusive Everett Lewis (Ethan Hawke) hires a fragile yet determined woman named Maudie (Sally Hawkins) to be his housekeeper. Maudie, bright-eyed but hunched with crippled hands, yearns to be independent, to live away from her protective family and she also yearns, passionately, to create art. Unexpectedly, Everett finds himself falling in love. MAUDIE charts Everett's efforts to protect himself from being hurt, Maudie's deep and abiding love for this difficult man and her surprising rise to fame as a folk painter.
October 9 - United Kingdom. A UNITED KINGDOM is based on extraordinary true events. In 1947, Seretse Khama, the King of Botswana, met Ruth Williams, a London office worker. They were a perfect match, yet their proposed marriage was challenged not only by their families but by the British and South African governments. The latter had recently introduced the policy of apartheid and found the notion of a biracial couple ruling a neighboring country intolerable. South Africa threatened the British: either thwart the couple or be denied access to South African uranium and gold and face the risk of South Africa invading Botswana.
September 11 - 13TH. The title of Ava DuVernay's extraordinary and galvanizing documentary refers to the 13th Amendment to the Constitution, which reads, "Neither slavery nor involuntary servitude, except as a punishment for crime whereof the party shall have been duly convicted, shall exist within the United States." The progression from that second qualifying clause to the horrors of mass criminalization and the sprawling American prison industry is laid out by DuVernay with bracing lucidity. With a potent mixture of archival footage and testimony from a dazzling array of activists, politicians, historians, and formerly incarcerated women and men, DuVernay creates a work of grand historical synthesis. This Netflix original was nominated for an Oscar and six Emmys. 
August 21 - Silence.  Martin Scorsese's SILENCE tells the story of two Christian missionaries (Andrew Garfield and Adam Driver) who face the ultimate test of faith when they travel to Japan in search of their missing mentor (Liam Neeson) - at a time when Christianity was outlawed and their presence forbidden. 
July 24 - A  Monster Calls. 12-year-old Conor (Lewis MacDougall), dealing with his mother's (Felicity Jones) illness, a less-than-sympathetic grandmother (Sigourney Weaver), and bullying classmates, finds a most unlikely ally when a Monster appears at his bedroom window.
June 19 - Eagle Huntress. THE EAGLE HUNTRESS follows Aisholpan, a 13-year-old girl, as she trains to become the first female in twelve generations of her Kazakh family to become an eagle hunter, and rises to the pinnacle of a tradition that has been handed down from father to son for centuries.
May 22 - Jackie. Featuring Oscar nominee Natalie Portman as Jackie Kennedy. 
May 1 - Moonlight. Three Oscars, including Best Picture. This film did not play locally.
April 24 - Fences. This outstanding film with Viola Davis and Denzel Washington did not play locally.
March 18 - Mansfield Park. The 1999 version of Jane Austen's classic, with Johnny Lee Miller and Frances O'Connor. A special Saturday showing that is part of ARTiGras.
March 13 - Between Allah and Me (and Everyone Else)  Between Allah and Me (and Everyone Else) explores the challenges faced by four practicing Muslim women in North America as they decide to start or stop wearing hijab. This 4:00 p.m. showing is part of ARTiGras.
March 13 - The Look of Silence  The Oscar nominated documentary in which a family that survives the genocide in Indonesia confronts the men who killed one of their brothers. This 1:30 showing is part of ARTiGras.
February 13 - Coming Home  Lu Yanshi (Chen Daoming) and Feng Wanyu (Gong Li) are a devoted couple forced to separate when Lu is arrested and sent to a labor camp as a political prisoner, just as his wife is injured in an accident. Released during the last days of the Cultural Revolution, he finally returns home only to find that his beloved wife has amnesia and remembers little of her past. Unable to recognize Lu, she patiently waits for her husband's return. In Mandarin with English subtitles.
February 2 - Love Between the Covers. The world of romance novels is explored through the lives of five of the genre's most popular and successful authors.  Featuring Nora Roberts, Beverly Jenkins, Celeste Bradley, Mary Bly and Susan Donovan. Followed on February 9th with a panel discussion by Wisconsin members of Romance Writers of America. 
January 9 - Indignation. Based on Philip Roth's late novel, Indignation takes place in 1951, as Marcus Messner (Logan Lerman), a brilliant working class Jewish boy from Newark, New Jersey, travels on scholarship to a small, conservative college in Ohio.
2016 Films
December 12 - Dark Horse. A documentary about a group of friends who band together to buy a racehorse. A Sundance Audience Award winner.
November 28 -Touched with Fire. Katie Holmes and Luke Kirby in a limited release title about young bipolar poets who fall in love.
October 10 - Miles Ahead. A wildly entertaining exploration of one of 20th century music's creative geniuses, Miles Davis, featuring a career defining performance by Oscar nominee Don Cheadle in the title role.
September 19 - Hello, My Name is Doris. Sally Field charms in the limited release film that is getting a lot a buzz. 
August 15 - Amy. The life and tragic times of Amy Winehouse. 2016 Oscar winner for best documentary. 
July 18 - Son of Saul. In the horror of 1944 Auschwitz, a prisoner forced to burn the corpses of his own people finds moral survival upon trying to salvage from the flames the body of a boy he takes for his son. The 2016 Oscar winner for Best Foreign Language Film.
June 20 - Lady in the Van. Featuring with Maggie Smith. A limited release gem based on the book of the same title by Alan Bennett.
June 16 - Merchants of Doubt. An award winning documentary about pundits-for-hire who present themselves in the media as scientific authorities. This showing is presented by the Mayor's Council on Sustainability and co-sponsored by the Library.
May 9 - Old Fashioned : The Story of the Wisconsin Supper Club. Director Holly De Ruyter will be on hand during the 7:00 p.m. showing.
April 11 - Macbeth. Shakespeare's classic with Michael Fassbender and Marion Cotillard.
March 31 - Missing Threads: The Story of the Wisconsin Indian Child Welfare Act. This documentary includes discussion with director and participant.
March 14 - Joyeux Noel.  An Oscar and Golden Globe nominee about the 1914 Christmas Truce. In French, German and English. Part of ARTiGras.
March 14 - Savage Tales. An Oscar nominated film from Argentina. In Spanish. Also part of ARTiGras.
February 22 - He Named Me Malala. The story of the Nobel Peace Prize winner. Co-sponsored by the Wisconsin Rapids League of Women Voters.