National Theatre Live is the best of British theatre, performed in London and presented in Wisconsin Rapids by McMillan Memorial Library.
2018 Series
March 15 - The Merchant of Venice.  Filmed before a live audience at the Globe Theatre in London. Portia, a wealthy heiress of Belmont, is forced to set her suitors a challenge. The winner will win her hand in marriage; the losers will lose her hand and much more. In Venice, the epicentre of consumption, speculation and debt, Bassanio borrows money from his friend Antonio to finance his attempt. Antonio, in turn, takes out a loan from the moneylender Shylock. The loan will be repaid when Antonio's ships return to the city. But if the ships fail to return, and the money cannot be repaid, Antonio will give to Shylock a pound of his own flesh. And they do fail. And Shylock will have his 'bond'. In some of his most highly-charged scenes, Shakespeare dramatises the competing claims of tolerance and intolerance, religious law and civil society, justice and mercy; while in the character of Shylock he created one of the most memorable outsiders in all theatre. Double Olivier and Tony award winner Jonathan Pryce plays Shylock in his first appearance at Shakespeare's Globe.
2017 Series
October 28 - Peter Pan.  Captured live at the National Theatre, a recorded performance of JM Barrie's much-loved tale. When Peter Pan, leader of the Lost Boys, loses his shadow, headstrong Wendy helps him to reattach it. In return, she is invited to Neverland, where Tinker Bell the fairy, Tiger Lily and the vengeful Captain Hook await. A riot of magic, music and make-believe ensues. A delight for children and adults alike, Sally Cookson (NT Live: Jane Eyre) directs this wondrously inventive production, a co-production with Bristol Old Vic theatre.
May 8 - Twelfth Night.  Tamsin Greig is Malvolia in a new twist on Shakespeare's classic comedy of mistaken identity. A ship is wrecked on the rocks. Viola is washed ashore but her twin brother Sebastian is lost. Determined to survive on her own, she steps out to explore a new land. So begins a whirlwind of mistaken identity and unrequited love.  The nearby households of Olivia and Orsino are overrun with passion. Even Olivia's upright housekeeper Malvolia is swept up in the madness. Where music is the food of love, and nobody is quite what they seem, anything proves possible.  More information at the National Theatre website.
April 17 - Saint Joan. Joan: daughter, farm girl, visionary, patriot, king-whisperer, soldier, leader, victor, icon, radical, witch, heretic, saint, martyr, woman. From the torment of the Hundred Years' War, the charismatic Joan of Arc carved a victory that defined France. Bernard Shaw's classic play depicts a woman with all the instinct, zeal and transforming power of a revolutionary.  Sponsored by the Library Endowment. More information at the National Theatre website.
March 16 - Amadeus. Music. Power. Jealousy. Lucian Msamati (Luther, Game of Thrones) plays Salieri in Peter Shaffer's iconic play, broadcast live from the National Theatre, and with live orchestral accompaniment by Southbank Sinfonia.Wolfgang Amadeus Mozart, a rowdy young prodigy, arrives in Vienna, the music capital of the world – and he's determined to make a splash. Awestruck by his genius, court composer Antonio Salieri has the power to promote his talent or destroy his name. Seized by obsessive jealousy he begins a war with Mozart, with music, and ultimately, with God. Sponsored by the Mead Witter Foundation. More information at the National Theatre website.
January 23 - Les Liaisons Dangereuse. Former lovers, the Marquise de Merteuil and Vicomte de Valmont now compete in games of seduction and revenge. Merteuil incites Valmont to corrupt the innocent Cecile de Volanges before her wedding night but Valmont has targeted the peerlessly virtuous and beautiful Madame de Tourvel. While these merciless aristocrats toy with others' hearts and reputations, their own may prove more fragile than they supposed. Sponsored by the Library Endowment.  More information at the National Theatre website.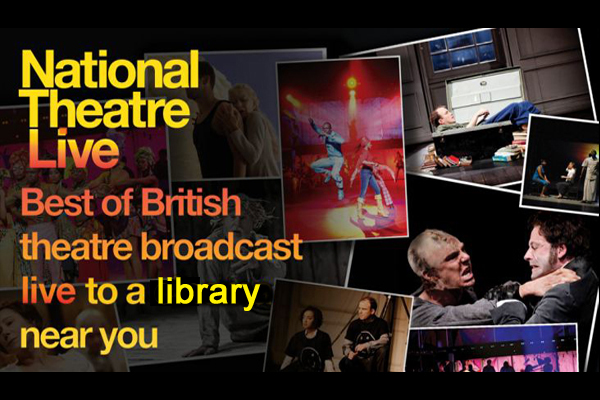 The National Theatre in London is dedicated to making the very best theatre and sharing it with as many people as possible. In fulfillment of its mission, it has launched a service to broadcast live and recorded performances to cinemas and other venues around the world. McMillan is one of only three public libraries internationally to participate in this program.
Each broadcast is filmed in front of a live audience in the theatre, with cameras carefully positioned throughout the auditorium to ensure that cinema audiences get the 'best seat in the house' view of each production. Where these cameras are placed is different for each broadcast, to make sure that cinema audiences enjoy the best possible experience every time. Due to the time zone difference and to best fit within the Library's schedule, showings at McMillan are delayed from the original broadcasts. As with all Library events, admission is free. Seating in the theater may be limited. Doors will open 45 minutes before show time. These programs are sponsored by the McMillan Memorial Library Endowment Fund.
"The Library has expanded its weekly film series to incorporate a once-a-month film festival of regional, documentary, limited release and foreign films" said Library Director Andy Barnett. "We wanted to build on that by presenting the best of British theatre to our community."
For Educators - The National Theatre has created PDFs, lesson plans and video learning resources which can be freely used by anyone. You can find them at https://nationaltheatre.org.uk/schools - just click on the relevant production and scroll down to the video and document links. You won't need to be logged in to access these, but some video content is not available in the U.S. The National Theatre also has a variety of other free learning resources linked through their main website. Go to https://www.nationaltheatre.org.uk/backstage and on the bottom of the page are links to YouTube, iTunes U and SoundCloud accounts with multimedia content. Their Learning page - https://www.nationaltheatre.org.uk/learning also has lesson plans and packs for a number of past productions. 
Previous Events
2016 Series