The WoodTrust Bell Foundation Garden is adjacent to the Youth Services Room. The Garden is open during Library hours during the growing season (usually late April through October). It can only be entered through the Youth Services Room. 
The Garden was created in 2013 as part of the renovation of the Youth Services Room. It was named in recognition of the WoodTrust Bell Foundation, which was a major donor to the renovation and is a long-time supporter of the Library. There are over thirty varieties of flowering plants in the Garden, selected to provide season-long support for butterflies and pollinators. A grant from Monarch Watch supplemented the original plantings. A woodland / shade garden was added on the Grand Avenue side to showcase a different environment. The Library is offering children's, teen and adult programs on butterflies and gardening, some of which will take place in the Garden.
The Library has worked with local Master Gardeners to develop the space as an environmental learning center. This supports the Library's goal of providing interactive learning opportunities through its Youth Services program. "Having a garden attached to the Youth Service Room is a great resource" said former Library Director Andy Barnett. "We have a real learning area thanks to support from the WoodTrust Bell Foundation, Monarch Watch and the Master Gardeners."
The Garden has been certified as a Monarch Waystation. It is only the twentieth library in the country to achieve this status and the second in the state. Monarch waystations are designed to provide both nectar sources for pollinators in general and milkweed habitat for monarchs in particular. Monarch Watch, which oversees certification, is a nonprofit education, conservation, and research program based at the University of Kansas. There are over 34,000 certified waystations, 1,300 of which are in Wisconsin. There are thirteen in Rapids. If you are interested in registering your garden, stop by https://monarchwatch.org/.
Image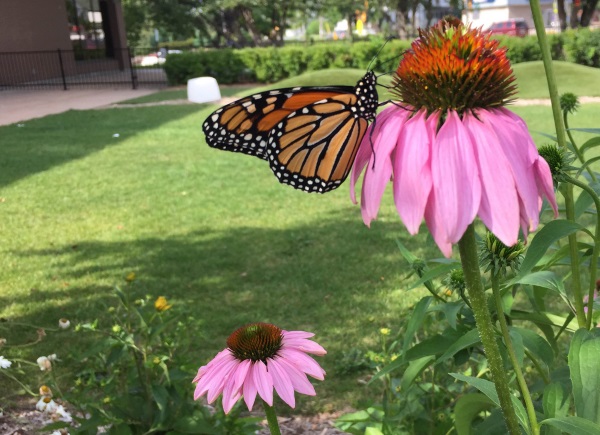 Image