Welcome back to the McMillan Podcast! It's been awhile…but now that the recording studio is set up and we can have people come into the library to talk again, we will be coming out with more episodes.
Our guest today is a local author and game developer, Amy Allworden. Amy talks us through some of the process to getting your book published–I have included an accompanying pdf of information prepared by Amy.
Image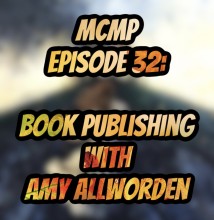 The McMillan Conversation Maker Podcast can be found on SoundCloud, iTunes, and Stitcher: please subscribe!